JHS Ex-Students Association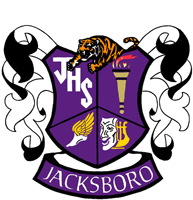 The J.H.S. Ex-Students Association organized on October 30, 1959.
Officers
President: Leslie Hicks Holman
Vice-President: Roxanna Rumage Maddox
Secretary: Debbie Gammon Wells
Treasurer: Kim Conway Hart
Board of Directors
Darlene Bonner Duncan
Carolyn Shaw Calhoun
Leslie McAvoy Chalmers
Margaret Hendricks Collins
Kristy Bennett Daws
Dayna Geer Gunter
Lanora Hensley Joslin
Dean Leach
Tiffany Bonner Lipscomb
Jane Ann McAnear Rhoten
Kimberly Wells Ross
Martha Hackley Salmon
Larry Shields
David Spiller
Clint Strickland
Christy Pender Thomas
Tony Thomas
Jim Whitsitt
The links to the left will guide you to pages of the JHS Ex-Students Association. Feel free to forward any important information regarding the Alumni Association to us. If there is any incorrect information, or you would like to post contact information for your yourself or your spouse, please email the Webmaster.